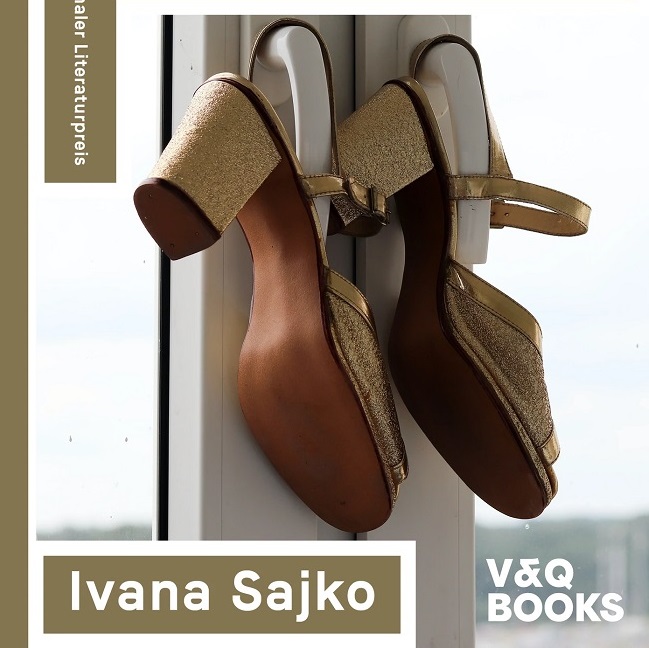 Launch: 'Love Novel', Ivana Sajko in conversation with translator Mima Simić
17/05/2022
Wednesday 18th May 2022, 6.30 pm

Location: Burley Fisher Books, 400 Kingsland Rd, London E8 4AA, United Kingdom

Free but booking required >> book here!

Unique event to launch Ivana Sajko's HKW Internationaler Literaturpreis-winning novel, Love Novel. Ivana will be in conversation with her translator Mima Simić to mark the book's English-language publication from V&Q Books, bringing the best in new German writing.
"When I first met Ivana Sajko and heard and read her writing, I instantly knew it was something special. I felt the force of her language, the pain of love and war, and I was stung by her clear and poetic Sajko sound."
Clemens Meyer
Love in late capitalism: Ivana Sajko takes us into a war between kitchen and bedroom. He, an unemployed Dante scholar, is trying to change the world and write a novel. She, a passable actress, has given up her safe job at the theatre to care for their child. He is delirious, she is on edge. With the rent overdue and violence looming on all sides, the two of them circle one another in a dizzying dance towards the abyss.

Ivana Sajko, born in Zagreb in 1975, is a writer, theatre director and performer, working in the overlapping fields of literature, performance art and music. She is an author of four highly-praised novels and dozens of political theatre pieces, among which Woman-bomb gained international success. Her many awards include the Chevalier de l'ordre des Arts et Lettres and the HKW Internationaler Literaturpreis. She lives in Berlin.
Mima Simić is a Croatian writer, an award-winning film critic, translator, and political activist. Her short stories have been included in numerous anthologies, and have been adapted for radio, TV and animated film. Her translations include works of fiction, non-fiction, literary theory, screenplays, and films. She lives and works in Berlin.
More events:

Thursday 19th May 2022, 6.30 pm
Waterstones Gower Street, 82 Gower St, London WC1E
Gower St Indie Spotlight: Erica Mou and Ivana Sajko in conversation with Merve Emre. An evening of discussion and Q&A with authors Erica Mou (Thirsty Sea, Héloïse Press) and Ivana Sajko (Love Novel, V&Q Books) discussing their novels with Merve Emre.
Book your tickets here.
Friday 20th May 2022, 5 pm
British Centre for Literary Translation, University of East Anglia, Room: Arts 01.06
An afternoon with Croatian playwright and novelist Ivana Sajko and writer, translator and LGBTQ+ activist Mima Simić. Join translator and publisher Katy Derbyshire in conversation with Sajko and Simić about their recent book Love Novel, considering issues like source and target language, gender in translation, and writing with translation in mind. Followed by drinks, chat and socialising.
More details here.